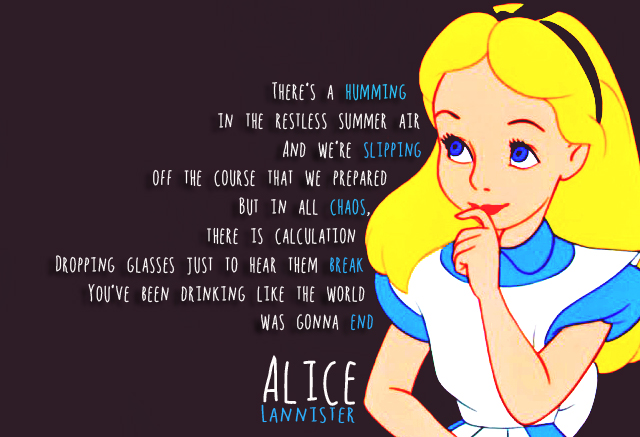 ♧Name:
Alice Lannister
♧Age:
13

♧House(s) (+ house sworn to if any):
Lannister

♧Family Members (only the very close ones like parents, siblings ...):
Tommen Lannister (Father), Arthur Lannister (Twins brother)
♧Role/Job/Occupation (+ Titles if any):
Saleswoman at the market (jam, medicines ...), Thief.
♧Personality:
Alice is a quiet girl and thoughtful, except when it comes to her brother, she loses confidence when you attack him. She is cunning and knows how misled people. He sometimes pretend to be lost, or cry to discreetly pockets of people coming to help. She loves to learn, especially when it comes to plants. The herbal medicine is her passion. She is a free spirit and she loves to walk around in the woods to explore and discover its mysteries. Alice is also very stubborn and when some thing in mind it is hard to change her mind. Curious, she sometimes puts in funny situation but it is also very careful with people she does not know, doing Arthur's confidence.
♧History:
Their mom might fall in love with a soldier, but he should leave when she became pregnant. He had another life and another woman. This is the story of twins, at least, that we called them.
In reality, they are the children of Tommen Lannister and his wife. The latter is offered before marriage to Tommen (he would go to war) and became pregnant twins. Unmarried, these children were a sign of shame for her. She asked her personal maid to go abandon the children in the forest so that they serve dinner to the wolves.
The young maid could not bring himself to kill them. She hid in a house, lost in the woods, and rose for nine years before dying of disease. Alice learned how to behave in society, for one day (maybe) become servant in turn. But since the death of his adoptive mother, she prefers to make her jams and potions and sell at the town market. She remains in their home most of the time. Their adoptive mother who learned to stay away from the city as possible, and fear all foreigners. They survive as they can, so honest or not.
♧Extra:
♧She don't knows she's a Lannister, she thinks to be named "Snow"
♧A rumor circulating on children of nobles, lost in the forest, some say that a ransom could be paid if there is evidence that children are noble blood.
♧The twins défendes against those who come for the ransom, ignoring their true intentions for the taking just mean people.
♧Evidence of their links with the Lannisters is over prams and cover with amblème family, but it is hidden in the attic.